What Is Business Tourism? Definition, Professions, And more
Mashable Web, 1 year ago
6 min

read
246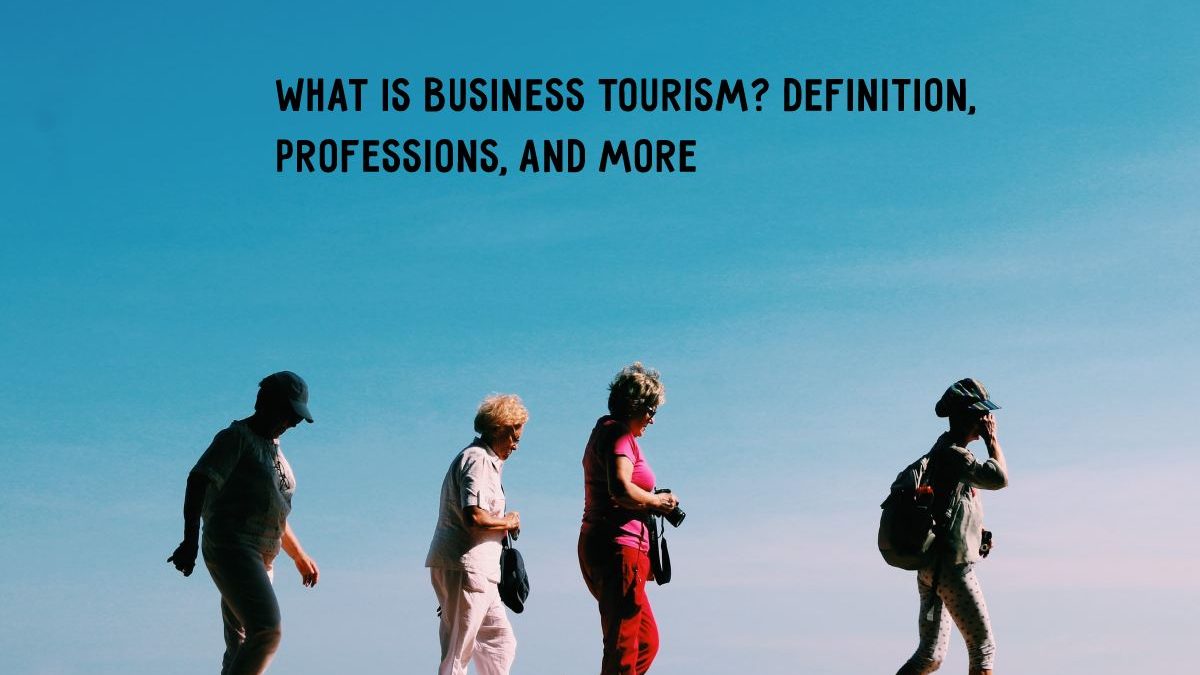 The Business Tourism industry is divided into leisure tourism and business tourism. Business tourism, also called business travel, refers to professional activities outside the company. They include, among others, participation in meetings, congresses, exhibitions, travel and business hospitality.
What Is Business Tourism? Definition
English acronym MICE ( Meetings, Incentives, Conventions and Events ) refers to all hotel and tourist activities related to corporate events: seminars, meetings, conferences, or even team building. In addition, business tourism is used for economic activities related to individual or group travel for professional purposes using travel services, hotel facilities and other amenities/activities.
These activities can be divided into four collections, from most to least frequent:
Business trips
A business trip is a professional trip, individually or in a group, with the objective of a public relations and economic operation. The most common are those carried out by salespeople and related to prospecting activities and customer visits, but there are also press trips, visits to trade fairs, etc.
Business conventions and professional congresses
Company conventions bring together an internal public (teams, sales representatives, affiliates) or external (customers, network of service providers) to companies to unite and inform. Professional congresses bring together experts from the same field on a given theme. This professional tourism applies to seminars, fairs, exhibitions, or promotional tours.
Incentive And "Reward" Trips
These events include stays and seminars aimed at developing team cohesion. Element of recognition or loyalty form  journey program of events activities, all expenses paid. They generally take the form of team-building actions (sporting challenges, cultural or artistic events) and stays offered to deserving teams or employees.
One-Time Event Celebrations
Company anniversary, end-of-year party, gala, etc. These corporate events are an opportunity to share the company's values, involve employees, and create links with partners.
The Positive Impact Of Business Tourism
Professional tourism is thus a key sector, both in business operations and from an economic point of view. Business travelers apply up to four times more during their trip than other tourists. Business travelers are, in fact, less cost-conscious of their expenses, as they bear only part of the cost.
In addition, two-thirds of professionals on business trips extend their stay for pleasure when they have the opportunity. We are talking here about leisure, a portmanteau word derived from the English "business" (business) and "leisure" (leisure). The practice refers to an individual taking advantage of a trip or business trip to make visits or activities relating to his peace. Business tourism, therefore, has a significant impact on the local and national economies.
• Business Tourism Figures
In 2018, more than 380,000 corporate events were organized, for 32 billion euros in benefits, according to a study by the firm EY. Companies in the professional tourism sector (agencies, organizers, and service providers) benefit from 52% of these benefits, while the traditional industry (hoteliers, transporters, and restaurateurs) represents the remaining 48%.
The New Challenges Of Business Tourism
Corporate social responsibility has been part of French companies' discourse and commercial strategies for several years. By reducing non-essential travel, companies see a real saving of money and time and limit their ecological impact. In addition, the trend towards the digitization of offers (congresses, conferences, team building, etc.) also seems to be a factor of concern in the professional tourism sector.
Business Tourism In A Post-Covid World
The health crisis has hit tourism and the hotel and catering trades. The repercussions on professional travel and events could leave more or more minor long-term consequences.
According to the Bloomberg agency, 84% of major global companies plan to reduce their travel expenses after the pandemic due to cost, the efficiency of technological tools, and ecological awareness.
An impact is revealed by the remarkable decline in expense reports in 2020 and the timid recovery in 2021. According to the Global Business Travel Association, And also spending on business travel could slip by up to 1.24 trillion dollars by 2024, reaching a pre-pandemic peak of $1.43 trillion in 2019.
Discover Three Business Tourism Professions
The sector highlights many business tourism professions such as reception and security agencies, entertainment and show providers, rental of rooms and furniture, audio equipment and video, manufacturers of promotional items, etc. In business tourism, studies and salaries are thus impacted by the diversity of professions.
1. Event Coordinator
Event managers help plan and organize events and functions for their clients. For example, they work with companies or organizations for events such as conventions, company anniversaries, and fundraisers. Event coordinators can be the main organizers of an event or act as occasional service providers.
Business school, communication or marketing school is recommended. There are also specialized schools offering BTS-type diplomas. An event planner will need these skills throughout their career:
Attention to detail
Organization
Problems solving
networking
Inventiveness
An event coordinator's salary varies depending on the organization's size, type, and level of experience. However, depending on the types of contracts, his salary can start at around 2,000 euros per month.
2. Travel Agent
As their name suggests, travel agents organize trips and excursions for employees or a group of employees. Jumbled up, they can unearth and sell transport, accommodation, guided tours and private access to attractions to businesses.
The diplomas giving access to the profession range from the BTS (Tourism, Management of Commercial Units, Negotiation and Digitization of Customer Relations) to the License Pro (Trades in Tourism, Commerce or Applied Foreign Languages). To be successful as a business travel agent, you need to have the following skills:
Most travel agents start at the minimum wage, but salaries can quickly climb when they are the big names in travel.
3. Catering
In the country of gastronomy, the catering of an event is almost as important as the event itself. The caterer, guarantor of taste, offers its customers a quality service, salty or sweet, following their expectations. It organizes seated banquets or buffets at private events for its employees, And also public affairs or professional receptions (convention, congress, gala, etc.
The caterer is versatile, but whether he is a self-employ caterer-reception organizer or employ in the hotel industry, he is expect to have at least a CAP Cuisine or butcher-caterer. We also expect him to:
Evenness
Creativity
Compliance with hygiene rules
Guest service
Depending on the type of business in which he works and according to the applicable collective agreement. And also the salary of an event caterer ranges from 1,430 euros gross to 2,700 euros gross.
Also Read: What Is The Value Of The Shares?
Related posts